Xgau Sez
These are questions submitted by readers, and answered by Robert Christgau. New ones will appear in batches every third Tuesday.
To ask your own question, please use this form.
November 16, 2022
À la recherche du temps perdu ('50s edition), worthwhile Canadians, Taylor v. Joni, Sarah Palin v. Jeffrey Lewis, and the electric kool-aid Dock Ellis revelation
[Q] Any chance you'll write a '60s or '50s rock book? Any chance you'll write today's concept of what that time was about? You said (one time long ago) the transition between '50s and '60s was endlessly complex. Sounds like a book or two, to me at least. -- Milan N, Belgrade
[A] Oddly enough, a history of '50s rock and roll--please not '60s rock, a far vaster and less coherent subject--went on my agenda around the time I began teaching at NYU in 2005, because it quickly became clear that my students knew next to nothing about it. I even wrote a Barnes & Noble piece musing about this lacuna, and designed a '50s course that I taught at NYU in 2015. If I didn't have my Substack gig I might even be working on it, though later I came up with another book idea I might also have pursued. But I do have my Substack gig, and it's very nearly a full-time job, and I'm 80, and the love of my life thinks I work too hard. So don't hold your breath.
[Q] What is your opinion of the early albums of Bo Diddley and Chuck Berry on Chess? I know you've recommended greatest hits albums by both artists but I'm curious if you think their individual albums hold up themselves. No question that there is a mediocre track or two on each of their albums but the overall consistency and originality of Berry albums like More Chuck Berry and St. Louis to Liverpool and Chuck Berry Is on Top and of Diddley albums like Bo Diddley Is a Gunslinger and Have Guitar Will Travel and Bo Diddley Is a Lover amazes me and I wonder if you feel the same. -- Scott, New York City
[A] Since I'm old enough to own both Bo's great Robert Palmer-curated/annotated Chess Box and Bo's The Definitive Collection, which I recommended to Blender readers 15 year ago ago after Chess Box went out of print and which are now both collectors' items, those are what I play. But note too that early Bo is old enough to be available in one of those cheap multi-album gray market European packages that as copyrights expire are now surfacing on a lot of Black music from the '50s, and I bet all that music is pretty good. Nonetheless, I'm happy with what I've got, so I'll leave my Bo advice there and if you prefer to mine Discogs be my guest. As for Chuck, I'm old enough to own his Chess Box too, but generally I go to either the great The Definitive Collection or else something post-Chess: Chuck, the 2021 Live from Blueberry Hill, recently 1979's Rockit too. Since you ask, The Definitive Collection includes everything I find worthwhile from Chuck Berry Is on Top. St. Louis to Liverpool is several shades better. But given how much other great music is out in the world, in my opinion life is too short, and not just if you're 80, to devote too much time to these fine distinctions. a
[Q] American/European media dominates. The number one radio station in Central Ontario plays mostly American, but you can always count on at least one song by "The Hip" or the song "Go For a Soda" to help reach the Cancon quota. Other than that, mostly AC/DC. The only other popular stations are country. You won't happen upon any Sloan or Teenage Head by turning a Canadian radio dial. You stumble upon that stuff either by reading, or through your Dad. Government funded art programs help local acts release a cassette or slightly bigger ones have any career at all, but everything worthwhile gets buried by the Hip. Newer music is only played on the radio through particular campuses or occasionally on CBC. Is this a case of the old deliberately ignoring the young? Ps. Here's a list of worthwhile Canadians that nobody's dad stands up for: Tops, Baby Labour, Fet.Nat, Lido Pimienta, Luge, Ian James Bain, Keita Juma, Black Dresses, and New Fries. -- Justin Grignon, Petersborough, Ontario
[A] If you say so. Having just isolated a Canadian act I like a lot that you did not mention, Mama's Broke, as well as discovered that Buck 65 had returned, I'll wait and see if anyone on that inconveniently long list makes an impression.
[Q] Taylor Swift > Joni Mitchell. Thoughts? -- Nicholas Wanhella, Vancouver
[A] As these silly mind games go, this strikes me as a good one, which is why I've agreed to play. In terms of schooled skill and raw talent, your > isn't a crazy notion at all, at least by me, because I happen to be both a longtime admirer of Swift, who in 2008 started getting nothing but A's save one B plus, and a Joni skeptic, with little if any use for the vast preponderance of albums that followed her extraordinary 1970-74 run of Ladies of the Canyon, Blue, For the Roses, and Court and Spark: The Hissing of Summer Lawns, Don Juan's Reckless Daughter, and the misbegotten Mingus seemed half-assed at best and much of what followed was worse than that. Many people I like and mightily respect have loved that post-Court and Spark music, especially the first three--Eric Lott and the late great Karin Berg come to mind. But for me the records kept getting worse except for the superb 2000 covers album Both Sides Now, few worse than 2007's Shine, which I panned brutally for Rolling Stone. Swift's popcraft is so consistent that she's never sunk nearly that low. And yet, and yet, as I hear it Swift has also never recorded anything remotely in the same league as that 1970-74 run, where not only are the songs and singing nonpareil (and in different, evolving ways at that) but the musical conception is nonpareil as well--the ethereal folkie of Mitchell's debut Joni Mitchell and follow-up Clouds braves the harmonic complexities of the jazz that as I hear it will then contribute to her artistic undoing in the late '70s. This is music that has few equals as music anywhere--not just in Swift's sizable catalogue but in the entire rock canon. Blue and For the Roses are albums I find myself wanting to hear again. Fine though they are, Red and Evermore aren't.
[Q] Do you still think Sarah Palin is as smart as Jeffrey Lewis? -- Ronan Connelly, Salt Lake City
[A] The source of this calumny is my pan of the 2008 covers album Lewis did on U.K. punk anarchists the Crass, a more-rad-than-thou band I heartily disliked due to their barely concealed contempt for the working stiffs and ordinary yobs they supposedly wanted to remake the economy for without ever beginning to specify how this noble goal might be achieved. The relevant passage read as follows: "Historically, people in this economy [meaning the one that failed the working class] have taken what they can get and had some fun in their spare time. They like Sarah Palin because they know she's as smart as Jeffrey Lewis and suspect they're not all that far behind themselves." Not long thereafter, Lewis formed a working alliance with Peter Stampfel that continues to this day, and as a friend of Stampfel I got to know him, where he proved much smarter than his misbegotten Crass project as did many of his solo albums, most memorably 2015's Manhattan. A fine artist and an ace guy, I've come to think. But as to whether Palin is as smart as he is, I wouldn't rule that out. For sure she's shrewder than she looks or she wouldn't have survived this long, though she did get swamped on election night, splitting the vote with another Republican and thus it seems enabling Democrat and native Alaskan Mary Peltola to continue to represent her largely Republican state in the House.
[Q] It is with respect and admiration that I share my revelation with you. Everyone from our planet knows about the Dock Ellis on acid no-hitter. There are songs, books and probably t-shirts and buttons. But did you, or anyone, till me, notice that in the box score that day was the line: Ellis, D. pitcher ( LSD !!!!)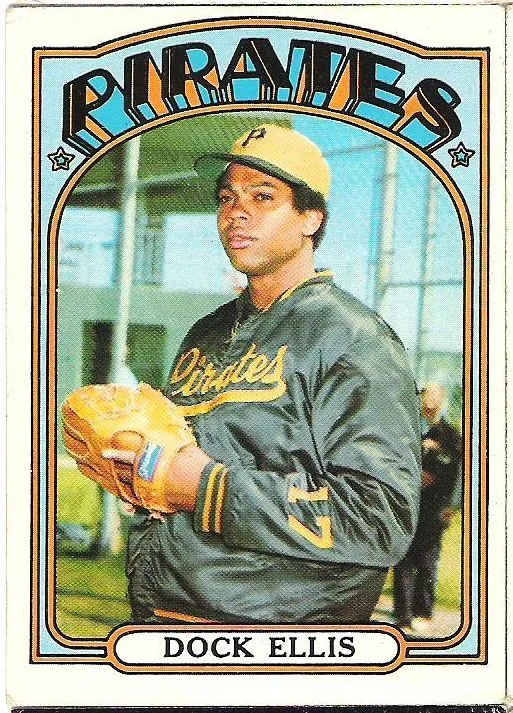 --
Bernie Kellman, San Francisco
October 19, 2022
On identifying left Democrat but not audiophile, rooting for Harry Styles, missing Gram Parsons, avoiding the b-word, and loving Canada (but not the Tragically Hip)
[Q] Were you always a pablum-puking liberal or did you have to be brainwashed? -- Ronald Regan, Austin, Texas
[A] I was raised in a born-again Christian family in Queens, Republicans though never true conservatives who like most Americans came to think the Vietnam War was a mistake. I started moving away from Christianity in my early teens, explicitly espousing atheism at 17. Influenced by several women I cared for, prominently including the two referred to in the Canada question below, I became a leftist in the '60s and would now label myself a "left Democrat" because I believe the word "progressive" has lost most of its mojo. I thank you for giving me an excuse to remind And It Don't Stop readers that there are crucial elections taking place November 8, perhaps as crucial as any we've known, and to urge them to vote as soon as possible as well as donate to favored candidates, as I have to over a dozen since March or so. Never since World War II has democracy been in so much peril.
[Q] I love your writing, and you have impacted my life in many ways. I saw Flipper at CBGB because of you. And much more. My question: what about Harry E. Styles? My daughter won tickets to one of the recent MSG shows on a local radio station and I took her. Sorry, but it was absolutely amazing, musically and otherwise. Can you acknowledge? "Watermelon Sugar" is a highlight, but far from the only one. He is a progressive dude and as musical as hell. Give credit where it is due! -- Stephen Petersen, Delaware
[A] Thanks for the tip, but wanted to make clear that because I generally open the Xgau Sez stuff only as deadline approaches that it was not your query that started me listening. It was my musically savvy daughter's enthusiasm, she bought tickets to more than one show, plus the imprimatur of Rob Sheffield at Rolling Stone and the general vibe--heard two different baseball announcers report on taking their daughters and expressing credible respect (although Michael Kay was careful to say that he was "no Bruce"). Despite my complete indifference to One Direction, it seemed to me I should at least Spotify him a little, and almost immediately--I started with the debut--I was impressed by the clarity and definition of the production as well as lyrical snatches here and there. I'd love to see him, and I'm rooting for him--for him to retain a modicum of sanity under such circumstances is next to impossible.
[Q] Gram Parsons didn't take kindly to Roger McGuinn replacing his vocals on Sweetheart of the Rodeo; he said in an interview that McGuinn "erased it and did the vocals himself and fucked it up." Do you hear it that way or nah? -- Sebastian, Santiago
[A] First of all, I see where there's a mega-reissue of Sweetheart of the Radio, which I knew naught of, because I have just about zero interest in these everything-included retrospectives. They're the rawest kind of corporate profit-taking and collectoritis, plus I have more old music I love in my shelves than I'll ever hear again, plus I still enjoy a lot of new stuff. Second, the Byrds have not aged well. They were the true folk-rock, which means among other things devoid of groove--their drummer, Michael Clarke, was the most stationary of his time, and he had competition. And their best singer wasn't leader McGuinn but Lord help them David Crosby, who admittedly did end up making something of himself. They meant a lot in their time on the basis of "Eight Miles High" alone, I still like Notorious in particular, and Sweetheart is several tads more than OK, though if you want to hear somebody cover "You Ain't Going Nowhere" I suggest Maria Muldaur. Third, Gram Parsons was a genius and a superb singer and they weren't. If he says his vocals were better than McGuinn's I see no reason not to believe him because I'd be surprised if they weren't, though doing the compare-and-contrast mambo with a YouTube version of the mega-reissue got tiresome fast. The Flying Burrito Brothers' The Gilded Palace of Sin remains one of my favorite albums ever. In addition to being a genius, Parsons was clearly cursed, and I'm very sorry he's gone.
[Q] For what it's worth, "It's Britney, Bitch" is the iconic opening line of her song "Gimme More." So while Gary K may have been a man appropriating the word, he was quoting a woman, and if it was supposed to sound cool, that's because Britney used it to sound cool. Why he thinks she ruled pop unchallenged from Madonna until Beyoncé I couldn't guess. On the other hand, you were dead on about Fantano's use of the word: sexist and hateful, and he should be ashamed. -- Ronan Connelly, Salt Lake City
[A] I knew this going in. But I've come to feel so strongly about "bitch" that I believe all men, gay men included, should make it a rule to stay away from it except in direct and explicit quotation. That said, however, it's certainly reasonable for you to alert readers who never think about Britney to this wrinkle.
[Q] Could you describe your audio system(s)? -- Faisal Ali, Toronto
[A] Not without great difficulty except to say that whenever I go over to Joe Levy's place I notice how much better his is. All my stuff is of quality without approaching audiophile standards I have no use for and would probably fuck up quick. For me what's important is its reach. My sound man is Perry Brandston, who I've known since 1966, when he was nine. He does sound for a living and is renowned for his knowledgeable and original and for just that reason eccentric setups. I have speakers in the dining room (formerly the living room "good ones," still loud and clear but now 30 years old), which abuts our open-plan kitchen and is where I do most of my joint listening with Carola. Early this year I replaced the finally kaput single workaday speaker in the bedroom, which is now mostly mine because for insomnia reasons Carola and I seldom sleep in the same room anymore (and Lord do I miss it), with an expensive one Perry recommended when it crapped out--there I hear music in mono. I have a quality but far from high-end hi-fi setup in my office and own a very good turntable I seldom use. But I also have Bose desktop speakers where I often check out stuff on Spotify etc. because I don't fancy the bother of crossing the room to punch the right buttons on my pre-amp. This was true long before I hit 80.
[Q] Overall, you seem pretty unimpressed with the Canadian music scene. While international artists like Neil Young or Arcade Fire are obvious exceptions, many of the most beloved bands inside the Great White North merit reviews that that range from tepid (Sloan, Guess Who, Gordon Lightfoot) to caustic (Tragically Hip, Rush, K-os). While the indie rock scene here gets occasional honorable mentions, many key Canuck bands don't merit reviews at all (Rheostatics, Sarah Harmer, Lowest of the Low, Teenage Head), and the same can be said of not just punk (Dayglo Abortions, Fucked Up, Forgotten Rebels), but rap (from Choclair & Maestro Fresh Wes to Snotty Nose Rez Kids & Kinnie Starr) and electronic music (from Skinny Puppy up through Holy Fuck and A Tribe Called Red). Not that I'm not a fan of them all myself, or that your take is idiosyncratic, but I'm curious: do you have any thoughts about what it is about what it is that makes so much Canadian music of such strictly regional appeal? -- Jim, Toronto
[A] I love Canada. I had a long-distance romance with a Canadian woman I remember with great fondness and respect that I broke off when I fell for Ellen Willis in early 1966. But before then I visited her every few months in Toronto, Quebec City, and Montreal, where I first saw the Rolling Stones live in November 1964 and was amazed to walk past the bus station afterward and see more male longhairs than had yet materialized in the East Village waiting to return to the boonies. I covered the big Toronto rock and roll festival in September 1969, also the Stones there in 1975. I've vacationed with my family in Canada several times. And to my way of thinking I've also loved plenty of Canadian music, particularly Neil Young and (early) Joni Mitchell but going all the way back to the Guess Who's "Undun," one of the linchpins of my 1969 "In Memory of the Dave Clark Five." I'd assume that among the 14 acts named not in my recall memory there are one or two worth an Honorable Mention and zero worth an A, because I have a pretty good network. I would assume these would be "indie" or "punk," because most rock bands I like these days are. I would brag that I'd read Leonard Cohen's Beautiful Losers before he released his first album and point out that I've said very nice things about such alt-rock as Tokyo Police Club, Pony, and especially the New Pornographers, fourth on the Dean's List in 2017. I would note that I've given A's to such rappers as Shad, K'naan, Backxwash, and the great Buck 65. I would note as well that the Canadian Broadcasting Corporation requires that its outlets promote Canadian music with disproportionate airplay. And I would wonder if, as I suspect, your hurt feelings go back to my disdain for the neither tragic nor hip Tragically Hip, the Great Mythic Unjustly Ignored Canadian Rock Band. Worse than Kansas, my sole review reported, and it doesn't get much worse than that.
September 21, 2022
Spotify praxis, a stupid feud, the greatness of the Funk Brothers, a sense of destiny that comes out in the sound, pop queens filed under 'B,' and right-wingers lie about everything (including punk)
[Q] I can see why Spotify is essential to doing your job--free streaming of selected songs for members of your audience who don't pay for music. Why don't you offer your audience that pays the option of streaming via Apple Music? After all, those who pay, especially Apple users, tend to be higher value users. -- John Gitelman, Stow, Massachusetts
[A] Since I receive very few promo CDs or DLs, Spotify is how I get to hear all the albums I don't have in my possession--a tiny proportion of the total available, of course, but hundreds a month. After multiple plays I decide which ones sound good enough to review and eventually buy, preferably as physicals, because for various reasons technological, psychological, and journalistic I prefer to review physicals--those I'm compelled to merely download I then burn. The Spotify songs included with the CG, which play at full length for readers who are Spotify subscribers and 30 seconds for those who aren't, leaves what readers then do with these albums up to them. I hope they buy some themselves, which is why I almost never publish pre-release reviews. But I have no control over that.
[Q] What do you think of Drake's hateful DMs to music reviewer Anthony Fantano? Have you ever received hate from a famous artist after an unflattering review? -- Juan, Paraguay
[A] Just what I've always wanted--a stupid feud between two public figures I'm supposed to care about and don't. As I explained several years ago when a question alerted me to Fantano's existence, I'm too busy listening to music--an oldish hip-hop album that seems destined for a CG review as I write, but definitely not one by Drake, who's bored me for many years now--to listen to podcasts much less album reviews much less Fantano's album reviews. Instead I read, and from what I read Drake's DMs are considerably less than hateful while his need to call attention to a reviewer he doesn't like is considerably more than stupid because it enhances the critic's fame. Fantano is right to make this point while milking Drake's attention for all it's worth. But he's not anything close to right to call correspondents he doesn't like "thirsty bitches" because it's vile to use "bitch" as an insult unless you're female yourself, at which point my male judgment becomes pretty much irrelevant.
[Q] Mongo wrapping up treating several beautiful suckling piglets that came down with exudative dermatitis. Mongo try new treatment for them--antibiotics and Motown music. Pigs seem to respond best to music. It sure had Mongo stomping around the pens when "Ain't No Mountain High Enough" came on. Then Mongo think this damn Jamerson sure play purty bass, and damn why don't people talk about the Funk Brothers more often? Aren't they the best band of all time that nobody know? Hell, maybe they better than the Beach Boys? Mongo try to think of better bands but nothing happens for awhile. Then he remembers some other candidates for best "unknown" bands of all time. The Muscle Shoals Rhythm Section Band, the Stax house band (Booker T. & the MGs), and the Wrecking Crew (natch). And Mongo throw in one more duo because he smoke too much weed--Sly and Robbie for they are multitudes in reggae. What you say? Is this silly parlor game? P.S. Mongo realized after he pressed send with meaty fingers he forgot to add the Hi Rhythm section band to his list of "unknown." Is anyone in there listening and can edit my question to add them? -- Mongolfier, Pig Farm, Ohio
[A] There are no parlor games anymore because there are no parlors. Instead there are internet timesucks, a category that includes neither your musical musings nor, I hope, my response. And for sure I've got one. Much as I admire Sly and Robbie especially, your first impulse was your best impulse. The winner is Motown's Funk Brothers hands down, though it must be said that they benefited immeasurably from their workmates: not just world-class vocalists the Temptations, Diana Ross, Marvin Gaye, and Smokey Robinson, to reference just the top tier, but extraordinary songwriters and producers, starting with Holland-Dozier-Holland of course but much as you might want to don't forget Berry Gordy, and I could go on. In my opinion none of the others you name are quite in their league, although Hi Rhythm with Al Green on board come close and L.A.'s Wrecking Crew also belongs in the mix (as indeed might the mid-'60s Rolling Stones). In this connection I highly recommend the 2019 Showtime documentary Hitsville: The Making of Motown, where I learned not only that drummer Benny Benjamin OD'd in 1968 and that nonpareil bassist James Jamerson, whose every lick Paul McCartney committed to memory and good for him, moved to L.A. in 1972 but never found his footing there. Race couldn't have helped, although the wondrous New Orleans drummer Earl Palmer did more than OK on the same scene. Neither could alcohol: Jamerson died of cirrhosis of the liver in 1983.
[Q] I've been benefiting from your pop-cultural optimism for nearly a half-century now, but I wonder if you share any of my current concern about the innovation slowdown (perhaps even a complete "stoppage") in pop music over the past three decades. For a good amount of recorded music's history, each decade brought a few breakthroughs unthinkable in the previous decade: Little Richard would have probably caused collective fainting-spells in the 1945 Coconut Grove, Are You Experienced? would have had people huddling in their bomb shelters in 1956, the Sex Pistols would have been placed on a mental-health watchlist in 1967, and Public Enemy's sampladelia would have caused hemorrhages on the 1975 Studio 54 dancefloor. As a post-Nevermind indie-rock agnostic and a post-Illmatic rap atheist, I don't think I've heard any pop music in the past 30 years that would have raised a conceptual eyebrow in the summer of 1989--if anyone can convince me otherwise, it's probably you. -- Petra St. Mu, New York City
[A] If you've really become a rap atheist then you've bowed out of the game. I mean, I have my doubts about most trap-identified contemporary hip-hop myself, but none whatsoever about Jay-Z, Eminem, pre-megalomaniac Kanye West, or Kendrick Lamar: unmistakably great and singular artists all, with many lessers making excellent and individually distinguished music in their wake, often off on the alt side (Homeboy Sandman, R.A.P. Ferreira). In alt-rock, meanwhile, the rise of the female factor has been a tremendous shot in the arm: Big Thief, Sad13, Chai, Illuminati Hotties, the Paranoid Style, Dry Cleaning, Wet Leg, I could go on, not always formally sui generis (though the first three sure are) but each markedly different and each imbued with a sense of destiny that comes out in the sound. Plus stuff that's going on in dance music that for a record nerd like me and perhaps you is too, as I like to say, site-specific, but as Beyonce likes to say is grist for the mill. Meanwhile try Phelimuncasi or DJ Maphorisa over in South Africa. Never heard anything much like 'em before.
[Q] Beyonce may reign supreme as today's pop queen but for the two decades between Madonna's heyday and Queen Bey, it was Britney bitch who held the throne. Your Britney reviews show Glory to be your favorite even though her earlier classics like Britney and Blackout rock much harder. And you never even reviewed her hits collection called The Essential Britney Spears which has got to be one of the great pop albums of all time. Did you miss that one when it was released in a limited edition or do you not agree it's her own personal A+ best? -- Gary K, Augusta, Maine
[A] The Essential Britney Spears is a three-CD set that came out during a twixt-CGs hiatus in 2014. I don't own it and have no desire ever to hear it; I mean, it's three CDs. As elsewhere noted, I seldom think the word "bitch" is funny or cool or ironic or whatever you believe it to be in this context. I suggest abjuring it in perpetuity. [Correction: it seems to be a two-CD set. I still don't feel I need to hear it.]
[Q] Why do you think Johnny Ramone said punk was inherently right-wing? Is it true? -- Dave Darren, New Jersey
[A] Because Johnny himself was a right-winger and right-wingers lie about everything. Obviously the vast majority of punks who had politics were lefties--to choose the most obvious, the Clash, the Dead Kennedys, riot grrrl, on and on and on. You are aware, right, that Joey wrote "The KKK Took My Baby Away" about Johnny?
August 24, 2022
The greatest jazz composer as a player, considering Zappa and 'Pet Sounds,' the internet's capacity for evil, Christian nationalists' capacity for same, and thoughts not from the killing floor.
[Q] You reviewed Duke Ellington This One's for Blanton, but never even mentioned his late masterpiece (it seems) The Afro-Eurasian Eclipse, which Gary Giddins called one of his favorite albums of the '70s (and I thank him for the recommendation). Have you heard it? What did you think? I also thank you. I'm very happy that you were there on internet back in the hard times to help me fall in love with music again. I didn't have any grandfathers, so at times it felt like you are one to me, revealing the secrets only grandfathers know. Also, any other writing is a breeze after yours. It's kind of a compliment. -- Mark, Russia
[A] Believe me, I know it's a compliment, and I always thank an internet for which I'm by no means always grateful when readers from a far-off culture tell me I've hipped them to some music that's brightened and deepened their lives. As you're not obliged to be aware though it's no secret, my tastes in jazz--which I've enjoyed since I was a teenager without ever developing anything remotely approaching the encyclopedic knowledge of my old colleague and longtime friend Giddins, in my opinion the greatest jazz critic who ever lived--run almost exclusively small-group. I like the interactive spontaneous multi-individuality of quartets and quintets especially. This One's for Blanton is of course a duet record featuring Ellington and the great bassist Ray Brown. It offers a rare chance to enjoy the spontaneous "understatement" and "extravagance" of the greatest jazz composer as a player.
[Q] Your opinions on early Frank Zappa records vary quite a bit (Hot Rats only got a C while the Mothers of Invention's We're Only In It for the Money got an A) so it's hard to know what you think of the rest of his 1960s work. Maybe you admire his satire more than his music so I'd like to know if you're fond of any other Mothers albums such as his musical peak Uncle Meat or his doo-wop satire/tribute Cruising with Ruben and the Jets and what you think of the Mothers of Invention in general in terms of rock history? -- GK, Illinois
[A] Zappa was a highly intelligent but even more egotistical motherfucker who I enjoyed mostly for his comedy/satire when he surfaced during the hippie era. It was bracing amid all that air pudding. But spiritually, let's call it, his aversion to air pudding bespoke an emotionally stunted person whose cultural utility shrunk drastically once the fatuous side of the hippie dream turned into a sick joke that didn't need him. I enjoyed Ruben and the Jets' simultaneously fond and satirical doowop, but relistening find its affection imperfectly realized and its satire shallow and racially suspect, in part because my respect for doowop itself has only deepened with the years. Similarly, I know many jazz-prone rock fans who adore his guitar, especially on Hot Rats. Me, I much prefer Stevie Ray Vaughan and Tom Verlaine, not to mention the inexhaustible Hendrix, and cannot offhand name a single jazz guitarist including George Benson and Jim Hall who means anything to me.